Automatic Mouse Clicker with Random & Fixed Location and Delay Interval
Mouse Clicker Software to click at random or fixed location with random of configurable delay between clicks. Easy to use Mouse Clicker software to automate single and double mouse clicks of both types i.e. Left Click and Right Click. Control Mouse Clicks with a configurable shortcut key combination or define how many mouse clicks are to be automated.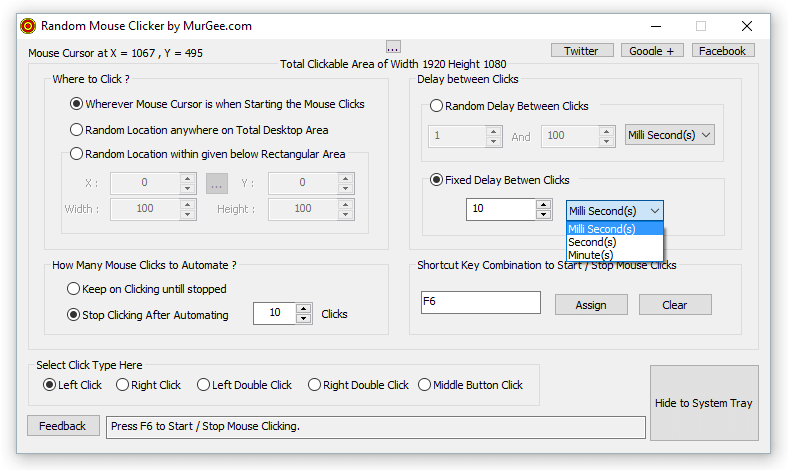 Download Random Mouse Clicker
Download this clicker software and try it for free. Explore various options and utilize various features of the mouse clicker software. After Free Trial usage, you can Pay USD 6.54 and Unlock the Trial of Random Mouse Clicker by MurGee.com on 1 Windows Computer for Usage of the Software Upto 3 Months from the Date of Payment of Activation Fees.
Features of Automatic Mouse Clicker
To start with the features of the software download, first do have a look at the screenshot of the application. The various features of the Clicker are presented in various groups. The first group asks where to click the mouse cursor on the screen and offers 3 options, similarly other options regarding mouse click location, delay, type of click and number of clicks are offered.
To hide the application, click on the cross button at the top right.
In order to close the application, right click on system tray icon and select the option named Exit.
Even when the application is hidden, you can use the configured shortcut key to start or stop the Mouse Clicks.
The Clicker offers 5 types of Mouse Clicks i.e. Single and Double Left and Right Clicks of Mouse Cursor and an option named None in which mouse cursor will not be clicked.
The Number of Clicks to be automated can be fixed or can be infinite and can be stopped by pressing the shortcut key combination.
Delay interval between mouse clicks can be a random value between a range of durations or the delay interval can be fixed (1 Milli Second can be the minimum delay).
Automate Mouse Clicks on whole computer screen (taking into consideration Multiple Monitor Computer(s) in Extended Mode), with a configurable rectangular area or wherever the mouse cursor is present at the time of starting the automatic mouse clicks.
Informative status window which displays useful information about the Automated Mouse Clicks.
Another simple and easy to use Auto Clicker software for windows, Auto Mouse Click to automate Mouse Clicks with a configurable script or explore Auto Mouse Clicker which is another sophisticated Mouse Cursor automation software according to a configurable mouse click script.
---