Mouse Mover
Mouse Mover is a Software Utility for Windows. You can Move Mouse Cursor to any defined location with this software download. Just define HotKey combinations and desired mouse co-ordinates and whenever you press the HotKey combination on the keyboard, mouse would be moved to the desired location.
Have a look at the ScreenShot of Mouse Mover Software Download which depicts the basic functions of the Mouse Mover. In case it does sounds interesting go ahead and Download Mouse Mover Software Now and start Moving Mouse by pressing Key(s) on Keyboard.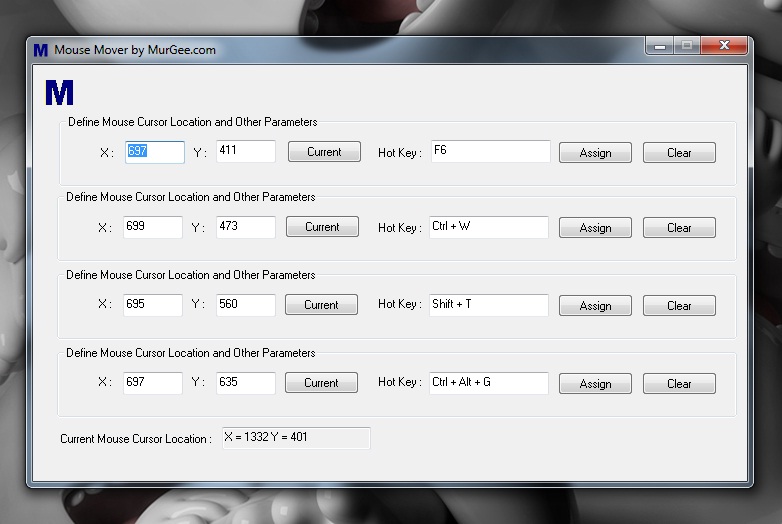 How to use Mouse Mover
Given below steps outline how to use the Mouse Mover Software and Move Mouse Cursor.
Launch Mouse Mover using Desktop Shortcut, Double Click on System Tray Icon or Right Click on the System Tray Icon and select Show Mouse Mover.
The System Tray Icon of Mouse Mover is created when the program is launched.
Setup of the Mouse Mover, adds the application to start at Windows Startup.
Enter the desired X and Y co-ordinates in any of the available edit boxes, press the desired Hot Key combination in the corresponding edit box and click on Assign button.
You can repeat the above process to add 3 more HotKey combination with different HotKey combination and different X and Y Co-ordinates.
When done adding the Mouse Cursor Locations, click on the Minimize button.
Now whenever you press the configured HotKey combination on Keyboard, your Mouse cursor would be moved automatically to the configured location on the computer screen.
---
Auto Mouse Mover Software to Keep Mouse Cursor Moving Automatically or have a look at Auto Mouse Click Software Download with which you can create and automate Mouse Clicks. You can also explore our Home Page which lists Dual Monitor Software, Mouse Cursor Software, ScreenSaver and much more.
---