Wallpaper Software
The Wallpaper Software presented here is a small software utility for changing wallpapers easily on Windows computers. The Software allows to change wallpaper with only few clicks in a Windows 7 style wallpaper changer. The Wallpaper Software can be used on Windows 10, Windows Vista and other Windows Operating Systems.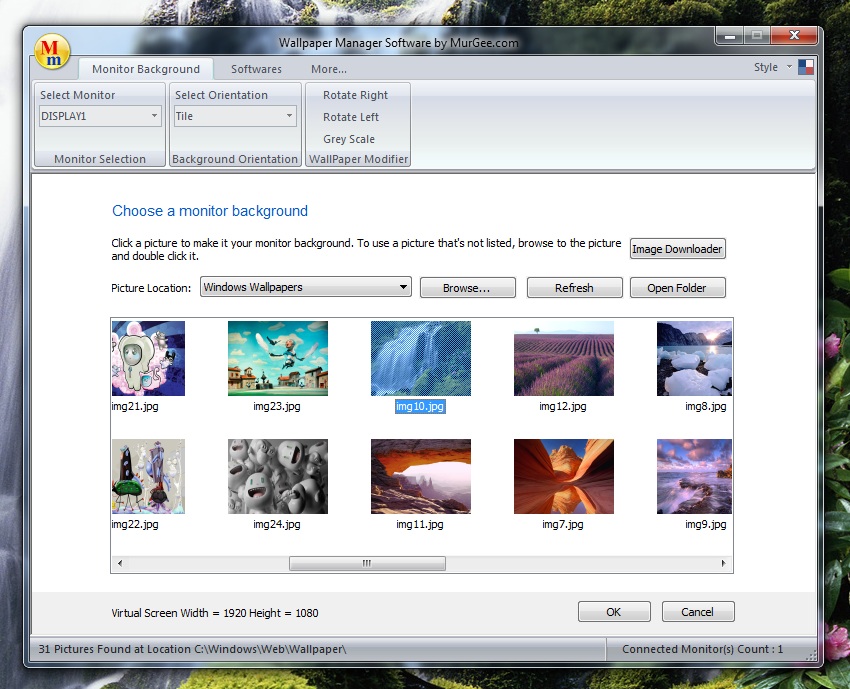 Download Wallpaper Software
The Wallpaper Software is offered on a free to try basis. In case you do like the software, you can unlock the trial limitations of the software by paying in a one time registration fee of $5.00 only. Download Wallpaper Software and give it a try for free on a Windows Computer now. The Software will work on Windows 10, Vista, Windows 7, etc and even on 64 bit versions.
Features of Wallpaper Software
Given below are few of the useful features of the Wallpaper Software. Do have a look at the screenshot of the Wallpaper Software displayed to the right of the paragraph to get an idea of how this Wallpaper Software works or continue reading.
Browse Wallpapers in Windows Wallpaper Folder, Pictures Folder, and Public Pictures Location easily.
The Main User Interface of the Software will display wallpaper's thumbnail image along with the image file name.
Click on any thumbnail image to set it as desktop background image.
Select the wallpaper orientation from Tile, Fit to Monitor or centre.
The Software allows to open the selected wallpaper folder in windows explorer.
Easily import any image file or wallpaper from computer's desktop or any other location using the Browse button.
The Status Bar of the Wallpaper Software will display useful information such as number of wallpapers found at selected location & number of monitors connected to your windows computer.
Below the thumbnail window, the software will display the virtual desktop size. In case you have two or more monitors connected in extended mode, it will show you complete size of your virtual desktop.
The Wallpaper Software can be used to set wallpapers on at max two monitors connected to your windows computer in extended mode.
The inbuilt Wallpaper Downloader allows to download images from internet with a single click.
Download Mouse Automation, Keyboard Automation and more Softwares by visiting our Home Page. In case you do have Dual Monitors connected to your windows computer, have a look at the Dual Monitor Software , which can provide functionality to control dual monitors, manage dual wallpapers, enable / disable monitor(s), change primary monitor and other related stuff.
---