Network Controller
Enable or Disable LAN Connections easily with a Desktop Shortcut, View List of Network Connections and their current state, all that in Network Controller Software Utility. In case you do connect to internet with a LAN connection, you can use Network Controller to enable / disable internet as well. Network Controller requires admin privileges to run.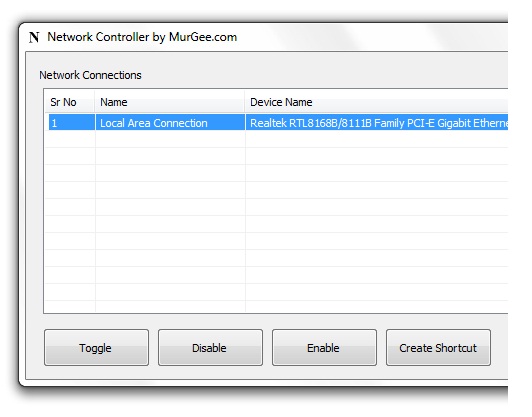 Enable / Disable LAN Connections
Download Network Controller and Enable / Disable Windows LAN Connections with Shortcut. Control your Windows 10, Windows 8.1, Windows 8, Windows 7, XP or Vista LAN with a simple shortcut. In case you do connect to internet using LAN connection, you can also enable / disable internet access to your computer with a simple shortcut. When you press Toggle LAN State button, the connected LAN connection would be disconnected and disconnected LAN connection would be connected. In case you do have only one Network Card (inbuilt in motherboard or an external one), you can use the Network Controller to disconnect from Local Area Network whenever you want and can connect in a real easy way.
LAN Control Rights
In Order to enable / disable LAN connections, the Network Controller would require admin privileges. The Admin privileges are required, as enabling / disabling LAN connection can affect other users configured on your windows computer. In case you do get an error when enabling or disabling LAN connections, right click on the shortcut (in programs menu or on desktop) and select Run as Administrator, this should allow you to control your connection with Local Area network easily.
Free to Try
Network Controller Software Utility is distributed as Shareware (i.e. try before your buy). The Software Utility can be tried for free upto 20 times and after that, in case you do want to use the software utility, you can register your copy by paying in $9.99 only and unlock the trial usage limitations. Trial version of Network Controller is only limited by number of uses allowed.
Display IP Address
Another Small and Useful Software utility which comes free with the Registration of the Network Controller Software Utility to Display your Computer's IP Address in a small relocatable pop up window. The Display IP Address Software Utility can also copy the IP Address to Clipboard easily and quickly.
---
MurGee Home