Monitor Controller Software
The Monitor Controller Software is available for download on Windows Operating System to control single or multiple monitors connected to a Windows Computer. With Monitor Controller you can control power state of Monitor(s) at every day of the week. Have a look at the given below Screenshot which displays easy to configure options of the Monitor Controller or Download the software now and give it a try on your Windows computer now. Once Free Trial Expires, you can Pay $9.87 and use it for upto 3 Months (from the Date of Payment) on 1 Computer.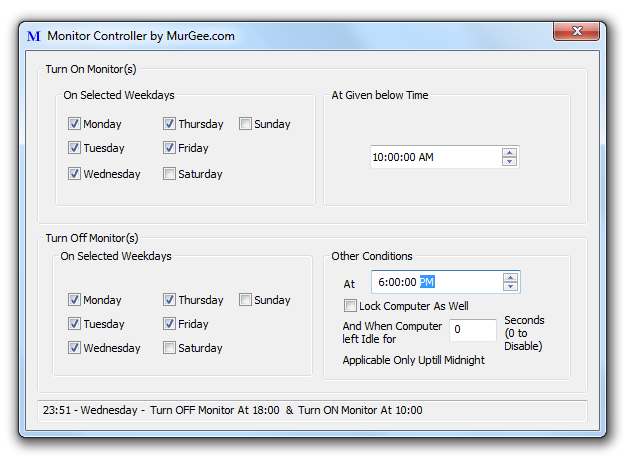 Automate Monitor Power State
The Monitor Controller Software can be used to automate the turning on and off of single or multiple monitors connected to a Windows computer. The Software can be really useful for unattended computer at office or any other location. Have a close look at the screenshot to the right to know how the software will work. The Main Screen of Monitor Controller has seperate check boxes for every week day in two groups. One group of checkboxes define turning ON of Monitor(s) and other controls turning OFF of Monitor(s).
The Software presented here works on Windows 11 and older Windows Operating Systems like Windows 10, Windows 8.1, etc and can be used to automate Monitor Power on everyday basis. Download Monitor Controller and automate Monitor Power State. When Monitor(s) is turned Off, it is sent to low power state and is still physically powered by the main electricity supply. Any Key press of Mouse Cursor movement (physical or by any other software) will Power ON the Monitor(s). In case your Windows computer has dual or multiple monitors connected then Monitor Controller will send all the Monitors connected to the computer to Low Power State automatically as configured and all Monitors would turn on and display your desktop or other applications on key press or mouse movement. In case you would like to turn ON or Off a single Monitor on a Dual Monitor Computer, then the Dual Monitor Software might be of interest to you. Few of the features of Monitor Controller are as given below :
Automate Monitor Power easily with Monitor Controller on a day to day basis.
Optionally Lock Computer when turning Off Monitor(s).
Configure an Idle Timer when Monitor(s) are turned Off to turn off Monitor(s) if left turned on after the Monitor Turn Off time.
The status text at the bottom displays the configured options for every day.
Monitor Controller operates silently from system tray every day (Added as startup item for signed on user by the setup).
Trial download has only usage count limitations and is otherwise fully functional software.
---
Mouse Automation and other Software Downloads for Windows.
---