Dual Monitor Shortcut(s)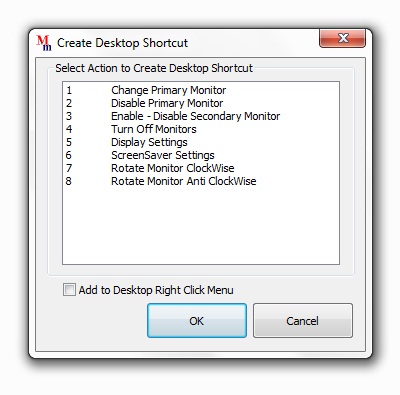 Download and Easily Control your Dual Monitor Computer with Shortcuts on Desktop or Shortcut Keys. There are many useful options available for creating Dual Monitor Shortcut(s). Once you are done creating the required shortcut, you can also assign a shortcut key to the shortcut (using Properties of the Shortcut), so that you can control your Dual Monitors by either launching the Shortcut using Mouse or Keyboard or you can press the shortcut key on the Keyboard to launch the action of Dual Monitor Shortcut.
Extend Monitor or Display
In case you do extend your display to span dual monitors then Dual Monitor Shortcuts can be really handy to use. There are many shortcuts available which can really help you to control dual monitors with ease.
Shortcut to Enable or Disable Secondary Monitor
Extend your workspace to span dual Monitors using Display Settings and then onwards you can enable or Disable Secondary Monitor with the Dual Monitr Shortcut. You may wish to use Dual Monitors at some time and use only Primary Monitor at some time. Now you do not need to go to Display Properties again and again to enable or disable secondary monitor every time. Just Create Dual Monitor Shortcut for the purpose and launch it to enable or disable secondary Monitor.
Let's say you do have a Laptop and an external Monitor Connected to it or a Desktop Computer driving Dual Monitors. You might wish to work only on one Monitor at a time or sometime you may wish to work on both the Monitors. To Change the state of the Secondary Monitor, just launch the Dual Monitor Shortcut and your Secondary Monitor if enabled would be disabled and vice versa.
Shortcut to Change Primary Monitor
Now you can change Primary Monitor using a Shortcut or by pressing Shortcut Key on Keyboard using a Dual Monitor Shortcut. Primary Monitor is a Monitor on which Start Menu is displayed and Desktop Shortcuts are displayed by Windows. Changing Primary Monitor to other Monitor makes the Monitor as Secondary and you can control Secondary Monitor as described in above paragraph.
Rotate Display with Dual Monitor Shortcut
Rotate Display in steps of 90 degress or Change Monitor Orientation with a Dual Monitor Shortcut. Rotate Display or Change Monitor Orientation where the Mouse Cursor is there which in turn allows you to control monitor orientation of any monitor in a Dual Monitor Computer. Launch the Shortcut or assign shortcut key to the dual monitor shortcut to rotate display by pressing the shortcut key on the keyboard.
---
Dual Monitor Software available for download. Navigate to MurGee Home to find download more software utilities.
---